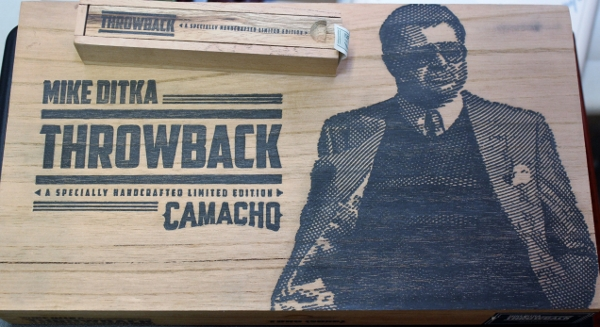 Thinking about what cigar to smoke for the Superbowl or during the regular season next year to help best encourage your local team?
Not sure what that cigar is?
Life would be easier if there was a "Kansas City Chiefs" cigar but unfortunately, that's not the case because:
A.) It would cost a ridiculous amount of money to have a cigar be the "Official" cigar of an NFL team and
B.) Good luck getting an NFL team to associate with anything tobacco related; what do you think this is, 1955?
Lucky for you, I have come up with the "Unofficial" NFL Team Cigar List. Depending on who you are, where you live or who you root for, you may be left saying, "Hey, I get the relationship, but that's a really crappy cigar." Well, that's okay, you probably have a crappy team, too but you just don't realize it.
The AFC
New England Patriots: 262 Revolution … There that was simple. Although it should be an Opus X or Cuban Cohiba considering all the records they have. I'm from New England, want to fight about it?
Buffalo Bills: Buffalo Trace Cigar … There really isn't anything too exciting about Buffalo and no one can really name 5 people that play for them. So, how about a cigar that most people haven't heard about made by Buffalo Trace bourbon (actually very good stuff).
Miami Dolphins: Padilla Miami … Most cigars should remind you of Miami, so I picked one with the name in it. Moving on…
New York Jets: Tatuaje Avion … Avion means plane. Their cheerleaders are the flight crew…see what I'm doing here, just go with it, it's a better cigar then the jets deserve.
Pittsburg Steelers: Foundry Carbon … There weren't any cigars with the word steel in the name. Carbon is as close as we're getting here. Just be happy I didn't make a Ben Roethlisberger joke, trying to keep it PG here.
Cincinnati Bengals: One Shot One Kill by Edgar Hoill … Get it, that's a playoff joke!
Baltimore Raven's: Evermores …That's what ravens say apparently and it's a cheap cigar which is how they play. If Ray Lewis was still playing it would have been the Esteban Carrera's 187.
Cleveland Browns: Not much here, Louis Tiante played for them for a while and he has his own cigar now, or just go with a Padron Brown Label. Sorry for the lack of creativity but you named your team after a color.
Indianapolis Colts: Lucky Cigar… it's a real cigar, just go with it. Get a boxed pressed one so it doesn't roll around, even downhill, like Trent Richardson.
Houston Texans: Joya de Nicaragua 1970 Antano Big Bull … It's a bull, your logo is a bull, that's all you're getting.
Jacksonville Jaguars: Humo Jaguar … *See Houston Texans* also this cigar will never win any awards, so you have a lot in common.
Tennessee Titans: St. louis Rey Titan Maduro … could of used it for St. Louis Rams as well. It's an O.K. cigar, not bad, not too great either. Ironic huh?
Denver Broncos: Someone out there i s making a cannabis joke right now but again we'll stay PG and say the Casa Magna Colorado. It won cigar of the year… once.
Kansas City Chiefs: LFD Capitulo Dos … A strong cigar and if you suck it down fast you'll be in…wait for it…Misery.
San Diego Chargers: Foundry War of Currents … self-explanatory.
Oakland Raiders: Camacho Blackout … black hole, very dark/mean cigar. Have high hopes but left kinda feeling let down.
The NFC
Dallas Cowboys: Anything by the Lone Wolf Cigar Company … That's Chuck Norris's cigar company, he was Walker Texas Ranger. What more do you need?
Philadelphia Eagles: Since there are no cheese steak flavored cigars just go with a Partagas 1845, it has a big honking Eagle on the band.
New York Giants: Either Empire State by Alec Bradley or the 7×70 Ogre by Asylum 13 … One's more New Yorky, the others a giant, have your pick.
Washington Redskins: Anything by the Indian Tobacco Company … Of course Alec Bradley's Dirty Hooligan, LFD's Air Bender, or Ted's Patron Cigar would also work as those three have had pressure on them to change their name and logo…just saying.
Carolina Panthers: Carolina 4 Blend … It has Carolina in the name. Don't think, however, that because Cam Newton sucks this cigar will as well, nice every day smoke.
New Orleans Saints: Perdomo 12 Year Double Aged … These cigars have been aged normally for 10 years then 2 more years in charred bourbon barrels.
Atlanta Falcons: Peach Flavored Tatiana…they're from Georgia, and if you like them you probably like little dainty peach flavored cigars.
Tampa Bay Buccaneers: Tampa Trolly … Again like Miami, most cigars should remind you of Tampa, with such a rich history of cigar production it's too bad they have to have a crappy football team and so get a crappy cigar to reflect that. Shame.
Seattle Sea Hawks: Rocky Patel Java … Starbucks. That's all I have to say.
Arizona Cardinals: E.P. Carillo Cardinal … Again should be self-explanatory. I will say that both the cigar and the team seems to get better every year.
San Francisco 49ers: Factory Throwout #49 … You use to be good, you use to be able to afford things such as high end cigars and quality players from time to time, but you're just living in the past. You're a factory throwout #49.
St. Louis Rams: Ram-Rod … A nice domestic cheroot, if you can think of anything better, let me know.
Green Bay Packers: Anything box pressed would work, but let's just go with the LFD Double Claro … It's green and there are no cheese flavored cigars to my knowledge.
Detriot Lions: Although there are many cigars with a lion as their logo I'm opting for the CAO Flathead … It's a cigar/motorhead themed cigar and more creative than saying, "La Aurora".
Minnesotta Vikings: L'atelier Surrogates Skull Breaker … Has a Viking theme to it more than anything else I've come across.
Chicago Bears: The easiest one on the list, Ditka by Camacho/Davidoff …'nuff said.
Nick
Tobacco Haven
Brookline, NH
1-888-68-SMOKE