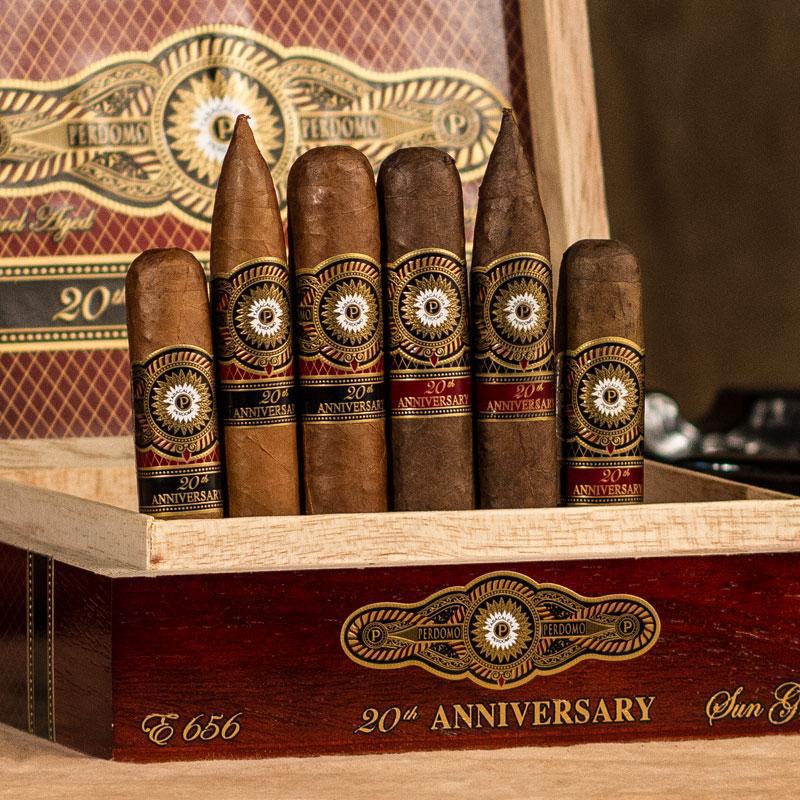 This is the first blog in a series of blogs that will help to build your knowledge of cigars and the cigar world. We have received permission from the Perdomo Company to take this information off of their website. Perdomo is one of the few companies still around that creates their cigars from seed to finished product (including making their own boxes and cellophane.) We here at Tobacco Haven trust their knowledge and expertise and are grateful to them for the use of the information below.
Cigar Sizes:
Petit Corona
Sometimes also called a "Mini Corona," this diminutive cigar measures usually 4 1/4 – 4 3/4″ by 40-44 ring gauge (rg).
Corona
One of the most desired cigar sizes in the world, the Corona measures between 5-6″ and has a ring gauge measuring 42-44.
Lonsdale
Also known as a "Long Corona", the Lonsdale generally measures 6 1/2″ by 42 rg.
Corona Gorda
A large Corona, the "Corona Gorda" or "Corona Extra" as it is also known, is generally a parallel cigar measuring between 5 1/2 to 6″ with a ring gauge of 46-52.
Robusto
The single most popular cigar size is the Robusto. It generally measures 5″ by 50 rg but many manufacturers now produce larger cigars under the "Robusto" name.
Toro
Also known as Epicure, the Toro size is a 6″ inch cigar with a ring gauge of 50-54. Gaining in popularity, the Toro is the middle point between the Robusto and Churchill sizes in terms of length.
Churchill (pictured above)
Named after Sir Winston Churchill, the Churchill size is a popular cigar that is most often between 6 1/4 and 7″ with a ring gauge of 48-54.
Double Corona
This large cigar is over 7″ in length, often between 7 1/2-8″ with a ring gauge of 49-52.
Gordo
A very popular large ring gauge cigar measuring 6″ x 60 offered in the Perdomo Habano line.
Gordito
A short, stout cigar measuring 4 1/2″ in length with a 60 ring gauge, offered in the Perdomo Lot 23 line.
Grand Epicure
A beautiful 6″ x 60 ring gauge cigar offered in the Perdomo Grand Cru line.
Other parallel cigar sizes include:
Lancero (7″ by 38 rg), Panatela (6 1/4″ by 36 rg), and the enormous "A" (9 1/2″ by 47 rg).
————————————————————————————————————————————-
Torpedo (pictured above)
The most popular of the non-parallel shapes is the Torpedo. The tip on a Torpedo usually comes to a point and in some factories can be very definitive. The cigar flares out for about an inch before becoming mostly parallel. Although it will vary from manufacturer to manufacturer, the Torpedo shape is generally 6-7″ in length with a ring gauge between 48-54.
Belicoso
A shorter version of a Torpedo, the Belicoso usually measures between 5-6″ and like the Torpedo has a ring gauge between 48-54. Belicosos often do not have the sharply pointed head of a Torpedo and tend to be more rounded.
Perfecto
This Figuardo varies greatly in length and shape. Perfectos can range between 5-8″ and come in almost any ring gauge. Generally they do have some similarities and typically have a small head (38-44 rg), are much thicker in the middle than on the head or foot of the cigar (50-60 rg) and have a tapered foot. A common example of the Perfecto shape is the Salomon; often 7 1/2″ in length with a 49 rg head, a swell up to a 60 rg middle, and a tapered foot.
Punta Gorda
A short, stout torpedo measuring 5″ x 60 ring gauge available in the Perdomo Lot 23 line.