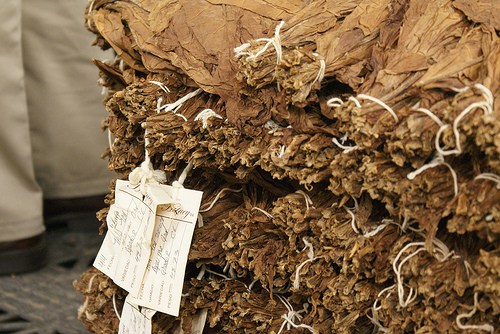 This is the second section in the cigar education series which will enlighten you with knowledge about the different types of wrappers found on a cigar as well as where the "body" of a cigar comes from that you may experience.
The flavor of a cigar can vary from mild to intensely full-bodied in nature, depending on how it is blended. If the blender is looking for a mild cigar he will use primarily Seco tobaccos and a light wrapper, such as Connecticut Shade, that will compliment the natural sweetness of the Seco filler and binder tobacco.
If the blender is looking for a fuller flavored cigar, then they will use more Ligero tobacco in the filler with more complex, stronger flavored tobaccos for a full-bodied taste. In this case the blender would not use a light wrapper, but a Cuban-seed, sun-grown wrapper or a Maduro wrapper. Although the flavor characteristics can range from very-mild to extremely-strong, balance is always of the upmost importance in a quality cigar.
The wrapper is the tobacco leaf that is on the outside of the cigar, covering the filler and binder bunch. Wrappers come in many different colors depending on the seed strain of the tobacco and the environment in which they are grown. These different seed strains allow the blender to have a variety of tobaccos in which to produce a perfect balance of flavor and complexity for his cigar.
Over the years there have been many articles detailing the assortment and range of wrappers including:
Candela
Sometimes called "Double Claro," this tobacco was once the wrapper of choice but unfortunately is no longer widely available. The wrapper tends to have a green hue to it and imparts a distinct flavor that some love and some dislike strongly. You'll have to try it to see where you fall!
Claro
This light tan color of wrappers is one of the more popular choices. The successful Connecticut Shade falls into this category.
Colorado
This wrapper is reddish brown in color and imparts more of a flavor profile to the cigar than the Claro version.
Colorado Maduro
This wrapper is darker than the Colorado, but not a Maduro. It is dark brown in color and is typically used on fuller flavored cigars. It generally gets its color from undergoing a longer or secondary fermentation.
Maduro
This dark brown to almost-black wrapper is rich and naturally sweet. In this case, the dark color doesn't mean that the cigar is going to be strong as Maduro wrappers and can be used on cigars with a sweet, espresso characteristic. They can also be used on spicy potent cigars. This flexibility allows manufacturers to produce Maduro cigars for different brands within their different profile lines.
Wrappers come from all over the world including, but not limited to:
Nicaragua
Honduras
Dominican Republic
United States
Cameroon
Indonesia
Costa Rica
Cuba